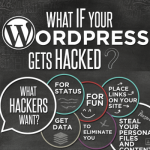 There are more than 74.2 million WordPress sites around the world. It is the most used platform, as well as, the most hacked.
In 2012, 170,000 sites were hacked which is over double from 2009 at 81,000.
Backing up your sites regularly, keeping all your plugins and theme up-to-date, and ensuring that you have a good security plugin are just some of the things you can start doing today.
Did You Know…
Did you know that it  takes approximately one day to realize that you have been hacked and up to 3 to clean up and restore? Find out other interesting facts by examining the infographic below.
WordPress Hacked Infographic Reveals
The growing statistics of the number of blogs that are hacked each year.
The top reasons why WordPress sites are being hacked.
How much time and money is needed to recover from a hack.
Tips to prevent getting hacked.
Infographic courtesy of Mike at StartBloggingOnline.com