Version Details
Version: 3.3 (This Release)
Release Date: November 23, 2018
Version: 3.1 
Release Date: July 4, 2018
Version: 3.0
Release Date: March 16, 2018
Version: 2.9
Release Date: December 6, 2017
Version: 2.8
Release Date: November 9, 2017
Version: 2.7 
Release Date: October 6, 2017
Version: 2.6
Release Date: September 1, 2017
Version: 2.5
Release Date: June 16, 2017
Version: 2.4 
Release Date: May 19, 2017
Version: 2.3 
Release Date: May 3, 2017
Version: 2.2
Release Date: March 24, 2017
Version: 2.1
Release Date: January 25, 2017
Version: 1.99
Release Date: September 13, 2016
Version: 1.98
Release Date: August 19, 2016
Version: 1.97
Release Date: June 23, 2016
Version: 1.96
Release Date: May 12, 2016
Version: 1.95
Release Date: May 2, 2016
Version: 1.93
Release Date: February 8, 2016
Version: 1.92
Release Date: January 20, 2016
Version: 1.91
Release Date: December 11, 2015
Version: 1.89
Release Date: September 18, 2015
Version: 1.88
Release Date: August 20, 2015
Version: 1.87
Release Date: August 6, 2015
Version: 1.86
Release Date: July 27, 2015
Version: 1.85
Release Date: May 7, 2015
Version: 1.84
Release Date: April 29, 2015
Version: 1.83
Release Date: April 26, 2015
Version: 1.81
Release Date: February 20, 2015
Version: 1.80
Release Date: December 22, 2014
Version: 1.79
Release Date: November 26, 2014
Version: 1.78
Release Date: September 5, 2014
 Version: 1.75
Release Date: August 11, 2014
Supports WordPress 4.1.1
Please check the plugins page to ensure that you are using the most recent version. If not, there should be an automatic notification that you need to update. Just click on the link and it will update the application. If however, for some reason you do not see a notification and do not have the latest version follow the instructions below.
To upgrade –
Deactivate the plugin (in the plugins section in WordPress)
Then reactivate the plugin.
The Upgrade link will appear – click on it.
Frequently Asked Questions
1) I have used the 'Fix It' to disable the Themes and Plugins editor, but now need to use it to make changes, what do I do?
You can simply deactivate the plugin from the plugins page and the editor will become available again. After you have made your changes, you can reactivate the plugin.
2) How do I switch off the captcha protection?
Click on the 'Login Protector' link in the left sidebar and then the 'Settings' tab. This will open the various settings and options that are available. Scroll down to the section titled 'Captcha settings' and uncheck the box beside 'Protect login and register forms with captcha'. And lastly, click on the blue button at the bottom that says 'Save Changes' and you are done.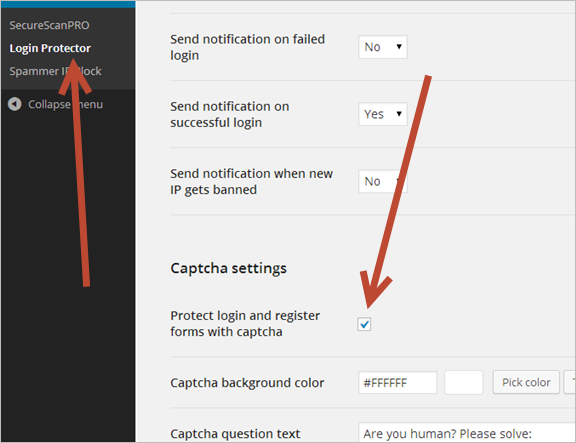 3) Why don't I see the captcha images?
The captcha display relies on a graphics library that needs to be installed on the server.  This library is called GD library.  Nearly all hosting companies have this installed by default, but occasionally there are some situations where it isn't.  The solution is to simply ask your hosting company to recompile php with a GD library installed.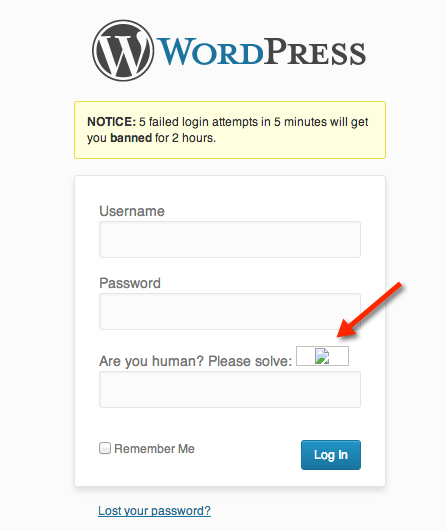 4) When I click on the 'Fix it' button a window pops up and says 'Unable to fix'. Why is this? What do I do?
The message indicating that it is unable to fix the issue appears if you do not have permission to make changes to these particular files. You need to change the .htaccess permission level to 644. If you do not know how to do this, we recommend that you contact your hosting provider and ask for their support. This issue may also appear if you are trying to block IP's in the Spammer IP Block settings. The fix is the same.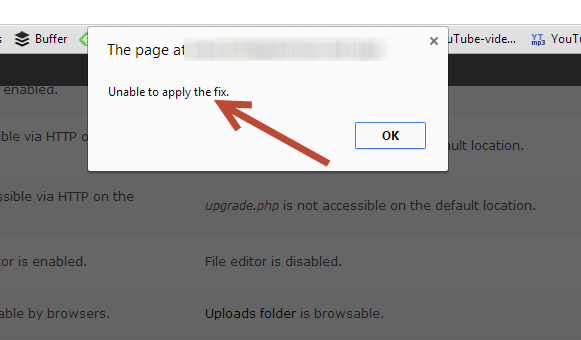 Get Support from Our Help Desk by Clicking Here